| | |
| --- | --- |
| Author: Liam O Comain | Title: The Kipp Strain Of Germany |
| Date: 2005-02-10 16:11:33 | Uploaded by: webmaster |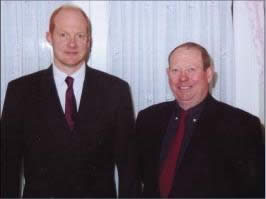 In my series of insights into a number of strains of racing pigeons it was not my intention to do an in depth study of each strain. Perhaps the concept of 'insight' is an important aspect here because it implies the personal, that is my own personal perception and interest which as such may be in opposition to the traditional definition of what constitutes a strain. But I believe that my definition of a strain is as valid as any other and it constitutes the end result of a committed and dedicated owner/owners of a loft/lofts of racing pigeons rationally bred and raced. That is in relation to breeding a close form of the latter based upon the best of bloodlines with the resulting product tested via the basket.

Thus as we have seen in other articles the strain makers begin with one or more families and ends up, even with required crossings, with a product which they can call 'their own'.

In our pilgrimage so far we have looked at some well-known strains and some not so well known if at all. But if the breeding and racing management produces achievements of a high order at national and international level then our insights are warranted. That is why our latest subject is the Kipp strain of Germany.

For their results in the land of their birth and internationally are phenomenal:
(A) 1st Nat. Marathon Champion - 1985 - 1986 - 1996 - 1997 - 1998 - 1999- 2000;
(B) 1st Int. Perpignan hens 1988; 1st Int. Barcelona 1998; 1st Int. Marseille hens 1999; 1st Int. Barcelona hens 1993;
(C) 1st Nat. Barcelona hens 1995; 1st. Nat. Barcelona hens 1997; 1st Nat. Barcelona 1998; 1st Nat. Marseille 1999;
(D) 1st Nat. Ace pigeon long distance 1999.



At all levels they have succeeded for what's shown here is but the tip of the ice- berg.

Yes this father and son partnership of Althornbach, Germany, have over the years moulded a strain of outstanding long distant racing pigeons whose base contain the blood lines of Ko Nipius/Jan Aarden, Cattrysse, Stichelbaut, and Piet de Weerd amongst others.

Inspite of this the English speaking world knows little or nothing about them. Although I must admit that the language barrier contributes towards this reality and the modest demeanour of the partnership.

In fact the pigeon sport scribes should and must for the good of the sport get beyond the cultural barriers or an aspect such as language and bring the great international lofts and strains of all nations into the flow of knowledge and interest. It will be for the benefit of the sport over all for there are strains out there other than those of Holland and Belgium. And as implied the Kipp strain is too good to be unknown for results alone confirm that it is one of the top modern strains in Europe today.

This status did not derive out of the blue so to speak but amounts to years of commitment by fanciers of astute ability at the managerial activity of the sport of long distant pigeon racing.

One of their outstanding birds is the so called 'Night Flyer', a mealy cock which arrived at 2.28am from Perpignan to take 4th national and 5th international in 1985. Yes one of the phenomenal few who keeps ongoing to reach their homes in the middle of the night.

Perhaps what we are witnessing in recent decades with the night flyers is the first signs of an evolutionary mutation in the sport of pigeon racing. Resulting from the intensified breeding and racing of master pigeon fanciers of the likes of the Kipps.

Ah some will say I'm crazy but then the moon landings first appeared in the old 'Dan Dare' comics of my childhood and they are now a fact. Through the growing awareness of strains such as the Kipps' representatives of the latter will cross national boundaries and through crossing with the help of pigeon genetics strains will emerge that will continue to make us marvel at the flying feats of the thoroughbreds of the sky.

Perhaps by then we will have night races but whether that could be defined as 'good' is questionable.

Liam O Comain



Coo time for a brew!...Where next?
Lets hear what you've got to say on this issue.... or any other infact! Post your comments in the Message Forum.
You've seen the light... bang a new idea!!... Tell the world, Write an article for Pigeonbasics.com, email into the webmaster at webmaster@pigeonbasics.com.