| | |
| --- | --- |
| Author: Liam O Comain | Title: The Trenton Strain Of America |
| Date: 2005-03-14 16:12:51 | Uploaded by: webmaster |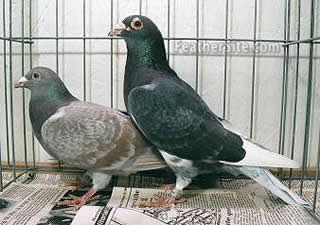 To have written about Belgium, Dutch and British strains of racing pigeons and ignore a strain formed in the United States of America would perhaps have illustrated a prejudice which does not in reality exist. Therefore I have set out in this article to convey to the reader some knowledge about an undoubtedly great strain of long distance racing pigeons- the Trentons.

Based upon research this famous strain has an input from a fellow Irishman called McCluthian for the pigeons of Henri Soffle coupled with the latter lay at the basis of the Trenton strain. The latter two families were crossed by a Belgium émigré to the USA called Gustove Offerman who settled in Brooklyn in the eighteen seventies. Offerman had almost instant success with his family of racers and eventually when he returned to Belgium the success continued and in due course his family crossed the English Channel to influence the inmates of British lofts. Osserman also judged in England during this period. Furthermore one of the greatest English racing pigeons bred by E. E. Jackson was 'Excelsior' and its sire was an Offerman.

Upon his return to Europe Offerman soon afterwards won a 550 mile race and also took second position. This was in 1881 and he sold both pigeons a cock and a hen to Fred Whitly of Newark, New Jersey. It was from this pairing that 'Trenton' or as he is often called '137 Trenton' was bred. A niece of the latter with the same bloodlines was 'Bright Eye' but it required an intelligent mind to blend both birds together to create the first and perhaps the greatest long distance strain of the USA. And that mind belonged to Conrad A. Mahr who formed what is known as 'The Great American Strain'.

To digress, for a moment, in about 1894, Mr. W.B. Ganairants of Newark, NJ sold all of his birds to Conrad Mahr which included 'Noah' and 'Thunder' (both brothers of 'Trenton') and the aforementioned 'Bright Eye', who when mated to 'Trenton' produced approximately thirty 500 mile day birds.

Now there are sources that believe that the Trentons should rightfully be called the Offerman strain but it is acknowledged by the majority that it was Mahr who really formed the strain. The latter of good intellect although lacking in formal education coupled with a very good horse sense and powerful dedication lay the ground for historic flights of 1000 miles plus across regions of the American continent.

Sadly the bird that was to give its name to the strain and the first American one perished when Mahr's loft burned down on September 5, 1898, at 55 Magazine Street, Newark, New Jersey. As a great dealer however Mahr had sold much of the Trenton bloodlines and as a result the strain spread like a prairie fire throughout the land of its origins and indeed beyond.

Another Belgian fancier called Posenaer had brought his birds to United States and when some were crossed with the Trentons they produced a black colour in the Mahr strain. Thus black in a Trenton is almost a sure indication of Posenaer influence.

Let us look at a few records flights by the Trentons: in July 11, 1913, a Blue Checker half Trenton known as 'Bullet' homed into Fort Wayne from Abilene, Texas, 1000 miles late in the afternoon of the 2nd day to the loft of Oscar Anderson, a world record in 1 day, 11 hours, and 24 minutes, and 6 seconds making a speed of 1042.54 yards per minute. On the 24th of June, 1927, 'Bullets' record was broken by 'Wayne Jr.' a full Trenton bred and flown into Fort Wayne by C.W. Oetting. 'Wayne Jr.' flew 1005 miles to his home loft in I day, 10 hours, 22 minutes and 20 seconds, with a speed of 1122.43ypm. And much has happened since then in relation to this fabulous strain.

In fact one of the great exponents of the Trenton's - Milton Haffner of Fort Wayne, Indiana, according to my sources in a period of 21 years sent 79 birds to races of 1,000 mile distances and realized a percentage of 71% - that is 57 returns. This is phenomenal! One of the latter a cock named 'Spotty' flew 1,000 miles five times collecting a first and a second with his last race at the age of nine years old.

And today representatives of the strain continue to cross the one thousand miles barrier. In fact this great strain of distance racing pigeons went on to create a lasting legacy as the foundation of many of the great long distance lofts in the United States of America.

Liam O Comain
Photograph courtesy of Chuck Oshaben.



Coo time for a brew!...Where next?
Lets hear what you've got to say on this issue.... or any other infact! Post your comments in the Message Forum.
You've seen the light... bang a new idea!!... Tell the world, Write an article for Pigeonbasics.com, email into the webmaster at webmaster@pigeonbasics.com.