| | |
| --- | --- |
| Author: Liam O Comain | Title: Oisin- The Best Middle Distance Pigeon In The UK And Ireland In 2004! |
| Date: 2005-06-01 22:55:10 | Uploaded by: webmaster |

The Irish people can be described metaphorically as a river of many streams but it cannot be denied that the bulk of our genetic make up is Celtic. In acknowledging this truth I wish to draw attention to the medieval store of legend and myth that exists from our past of whom a major figure was Finn the leader of the ancient Fianna, a warrior band. The stories which were expressed at many a fireside over the centuries also referred in one version to Finn as a giant and in fact one story relates to the building of the Giant's Causeway by this figure.

However my reason for referring to the old stories is because of a pigeon owned and raced by Terence and Brigid McCrudden of Coleraine, in County Derry. For when I first read of its exploits and name I thought of the son of Finn known as Oisin (Irish language: pronounced Osheen) who was a warrior and a poet. The adventures, which I had read of Oisin equated with that of McCrudden's 'Oisin' for one had to posses of youth, of strength, of vitality to win five consecutive NIPA Section races in one old bird season plus three RPRA Irish Region Meritorious Awards as well as being the top old bird in what another scribe refers to as the 'mighty NIPA' for 2004. In fact he could have went unto further glory but for the owners decision to stop him from racing any more that year. He is also the recipient of the prestigious Major Lewis Trophy and at the Blackpool (2004) ceremonies was awarded the trophy for the best middle distance pigeon in the UK for 2004. As for the poetry- Oisin is pure poetry in motion!

Oisin is a well handled, well balanced, intelligent Van Loon chequer cock whose accomplishments may not be ever repeated for some time in Ireland, if ever. Of course rather sadly in our sport there are still those who for whatever will use the phrase a 'flash in the pan' when referring to Oisin's achievements - but this is no flash in the pan as acknowledged by those of the British and Irish fancy who know what they are talking about and who give honour where honour is due. For this worthy champion for the past year of 2004 has this record:
Talbenny, Wales- 1:1st Section,50th Open N.I.P.A. 17,358 birds.
Talbenny, Wales-2: 1st Section,34th Open N.I.P.A. 13,337 birds.
Bude,Cornwall : 1st Section, 3rd Open N.I.P.A. 9,840 birds.
Sennan Cove, Cornwall- 1: 1st Section, 6th Open, 8,450 Birds.
Sennan Cove, Cornwall- 2: 1st Section, 6th Open N.I.P.A. 3,295 birds.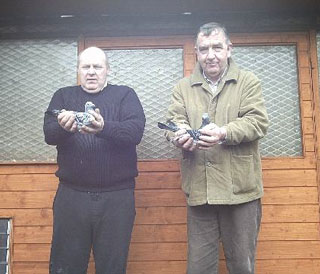 Tommy Cummings, holding 'Oisin' alongside Terence with another of his super pigeons.



Against 50,000 plus pigeons this great pigeon in five races was in the first fiftieth of the Open five times. In fact this bird told the McCrudden's that it was in form and ready to go and its owners dutifully responded and the beloved Oisin did not let them down. This representative of the Van Loon strain has put Coleraine a great pigeon flying town on the map amongst the pigeon racing fraternity. The Bannside town where it is recorded:

'As beautiful Kitty one morning was tripping
With a pitcher of milk near the town of Coleraine,
As she saw me she stumbled, the pitcher it tumbled
And all the sweet buttermilk watered the plain...'

A song from my past and interestingly enough Oisins male co-owner is a son of Charlie McCrudden a good friend of my late father whom I recall visiting my ancestral home when I wore but short trousers. Of course my father's father originated from the town alongside the River Bann and many a visit I made to it in relation to pigeon racing, soccer, Irish culture and even politics. So in returning to do this write up I was also making touch with a varied past... But to return to the pigeons of Terence and Brigid McCrudden: I have not seen as good a loft of pigeons within the last three years as I saw at the McCrudden lofts. Like peas in a pod they are bouncing with super health and condition and mind you our visit was on New Year's Day.Yes, as organised by and with Tommy Cummings of Limavady I came to do a report on the super Oisin but I assure you that these are not a one bird series of lofts. There are many winners lofted here including birds which have won 8 races and 11 races, etc., flying into the far north west of Ireland across the St. George's Channel and the Irish sea. Channel birds supreme - of that contention the facts confirm! And what a cross for the long distance families - the Aardens based, for example!

But when did it all begin? There were always pigeons in the McCrudden family for Terence's father had them but for the present maestro of the wife and husband partnership it began in earnest in 1969 when he joined the Coleraine Premier Society and although his first winner was disqualified due to clock deficiencies the first official win was from Belleek in the NIPA Open in 1974.Since then pigeon racing was always an important part as well as greyhounds in the life of this welcoming family and the involvement of the doggies was an important factor in the formation of this modern racing loft. For as Terence revealed through involvement with greyhounds and upon a visit to England because of the latter fate ensured that while strolling through Newcastle he stopped at a loft and met fanciers who were to become good friends and who were to become the source of the way to success and the appearance of Oisin and others. The fanciers were Jimmy and Alex Showler and the McCruddens are extremely thankful to the latter partnership for their friendship and the birds that they obtained and succeeded with.

The partnership recognises that long distance racing is different from middle distance racing and at present are more committeed to the latter knowing that it involves within the Irish context difficult channel crossings. They use the widowhood system almost as an art based upon personal hard work. A committed pair to the sport would be hard to find. In fact Terence showed an animation when he described his methods that had to be admired. The latter reflecting that the success of the partnership emanates from authentic pigeon sportsmanship.

Their advice to the novice is to go to a successful fancier within their own area and purchase about 8 pigeons as a basis. Then have patience and generate an appropriate management system for ones income and circumstances. Success will follow if the commitment is there!

Like others they have had many disappointments especially during blow homes for example losing two cocks who were winners of 8 and 10 races respectively. Oisin of course has been their pride and joy in the sport and his successes covers the disappointments. However I agree with Terence that there are others ready to show their worth especially a particular chequer cock of supreme phenotype.

The lack of given honour when honour is due to a fancier and his birds are what they dislike and is their main regret of the behaviour of some of the pigeon racing fraternity. Of course they regret the possible slow demise of the sport especially through the failure of recruiting the youth and feel that the fancy will have to see what can be done about this occurrence.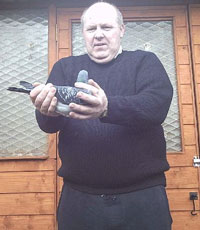 Terence McCrudden holding the champion Oisin.



Bamfords Super Widowhood mixture is the stable diet and in the winter they give 80% barley. They also use Gem Natural Products and Hormoform alongside multi- vitamins. Prior to mating the pigeons are treated for worms and canker and also after every race on a Sunday the canker treatment continues.

I found the lofts dry and well ventilated and the partnership are grateful to Frankie McAreavy of Coleraine for the magnificent lofts as they now stand.In fact they could not speak highly enough of the latter craftsman to the degree of which they would like and through this report and also to the Showler's Terence and Brigid expresses their sincere thanks.

Well as the foregoing confirms I was highly impressed re my visit to the McCruddens. I thank Terence and Brigid for their hospitality - a measure of which that I felt at home. May they and theirs have many years of happinness and continuing success with the thoroughbreds of the sky. They deserve it! And as Tommy Cummings says to have an equal to Oisin would be worth a life time of pigeon racing. Slan agus Beannacht!

Liam O Comain



Coo time for a brew!...Where next?
Lets hear what you've got to say on this issue.... or any other infact! Post your comments in the Message Forum.
You've seen the light... bang a new idea!!... Tell the world, Write an article for Pigeonbasics.com, email into the webmaster at webmaster@pigeonbasics.com.